The League of Arlington 
stands with millions of Americans in grieving the senseless murder of George Floyd, Ahmaud Arbery, Breonna Taylor, Sean Reed, and countless other Black lives.
Statements:
WE ARE PROUD TO ANNOUNCE WE HAVE BEEN SELECTED AS A2019 JAMES B. HUNTER AWARD RECIPIENT!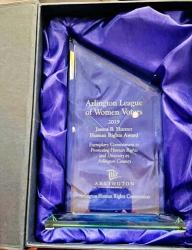 THE JAMES B. HUNTER HUMAN RIGHTS AWARDS HONORS INDIVIDUALS, COMMUNITY GROUPS, NON-PROFIT ORGANIZATIONS, AND BUSINESS ESTABLISHMENTS THAT PROMOTE HUMAN RIGHTS.
THE LEAGUE IS HONORED WITH THE AWARD UNDER "COMMUNITY GROUP" CATEGORY. READ THE FULL ANNOUNCEMENT IN ARLNOW